The Nancy & David Wolf Holocaust & Humanity Center is proud to present the winners of the 2023 Upstander Awards. The Upstander Awards Ceremony took place on June 11 as part of the Cohen Family Upstander Weekend.
These winners were chosen out of 27 finalists, who you can read about here. The finalists were selected out of hundreds of nominees in the region. Do you know an upstander who deserves recognition? Nominations for the 2024 Upstander Awards are open.
Nonprofit Upstander of the Year: Kick Lee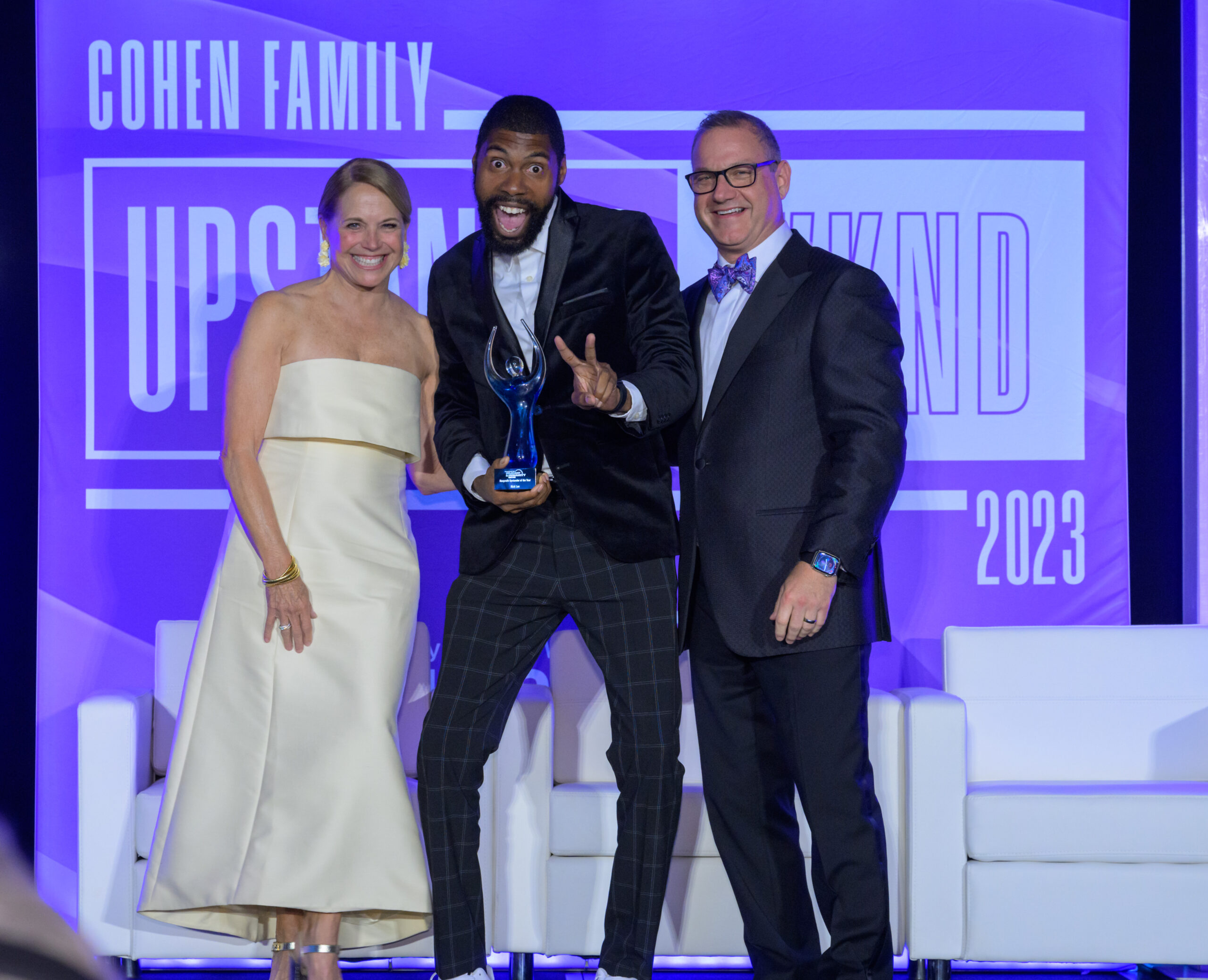 As the founder and executive director of Cincinnati Music Accelerator, Kick has showcased how creativity can transform a community. By building careers for female and minority musicians, he has transformed lives and strengthened the influence of art and music on the greater Cincinnati area.
Kick is also a Cincinnati Parks Board Commissioner, and serves on the board of Lighthouse Youth & Family Services, The Children's Theatre of Cincinnati, and Black Art Speaks.
Business Upstander of the Year: Amy Spiller
Amy is president of Duke Energy's utility operations in Ohio and Kentucky, which serves approximately 880,000 electric customers and 550,000 natural gas customers. Under Amy's leadership, Duke has invested over 2 million dollars transforming Cincinnati's urban core, making meaningful strides towards social justice and racial equity.
She is a true pioneer of female leadership in the otherwise male-dominated utility industry. Amy is a steadfast supporter of the Nancy & David Wolf Holocaust & Humanity Center's mission and works tirelessly to connect the business community with the Center's paramount mission.
Upstander Legacy Award: Jaipal Singh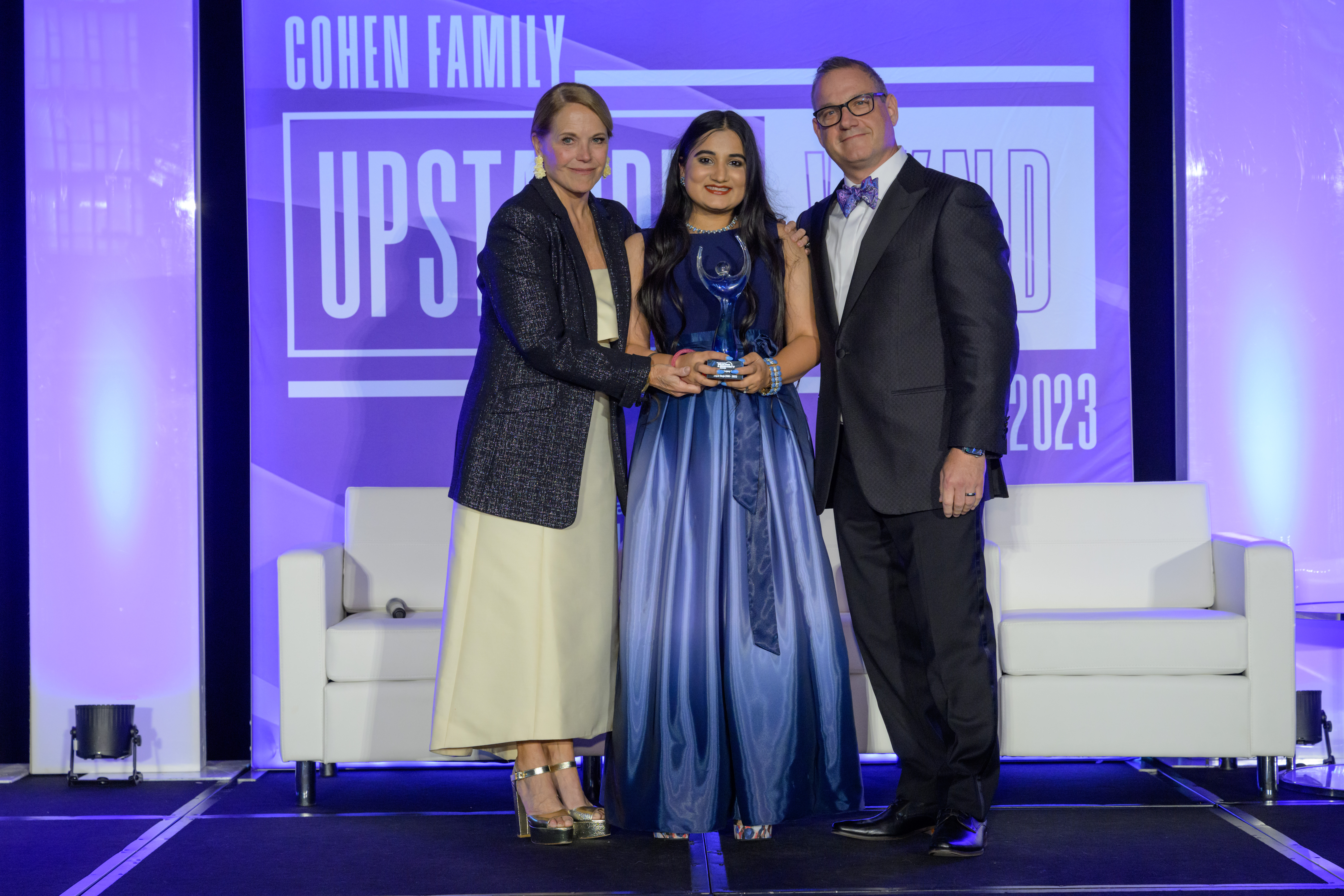 This year's Upstander Legacy Award recognizes the extraordinary contributions of Sikh Community Acitivst Jaipal Singh, who passed away last year. Jaipal was an architect, Sikh community advocate, and interfaith leader who lived a life dedicated to love, service, and community. He served as co-chair for the annual Festival of Faiths and sat on the board of the Cincinnati Regional Coalition of Against Hate. From 2010 to 2012, Jaipal provided relief aid in Haiti providing post-disaster reconstruction of schools, orphanages, and housing.
Jaipal was steadfast in his conviction of building a more beautiful world. Following Hurricane Maria in Puerto Rico in 2017, Jaipal mobilized a network of volunteers and went to Puerto Rico to provide disaster relief aid, getting help to remote villages. Jaipal passed away last year after battling Stage 4 Gastric Cancer. His beloved wife, Aasees Kaur, accepted the award.
Each award presented is named after a Holocaust survivor, World War II liberator, rescuer or upstander featured in the Nancy & David Wolf Holocaust & Humanity Center's award-winning museum. Each award also recognizes a specific character strength used in the museum to describe upstander behavior.
The Edith Carter Award for Love: LeTecia Cunningham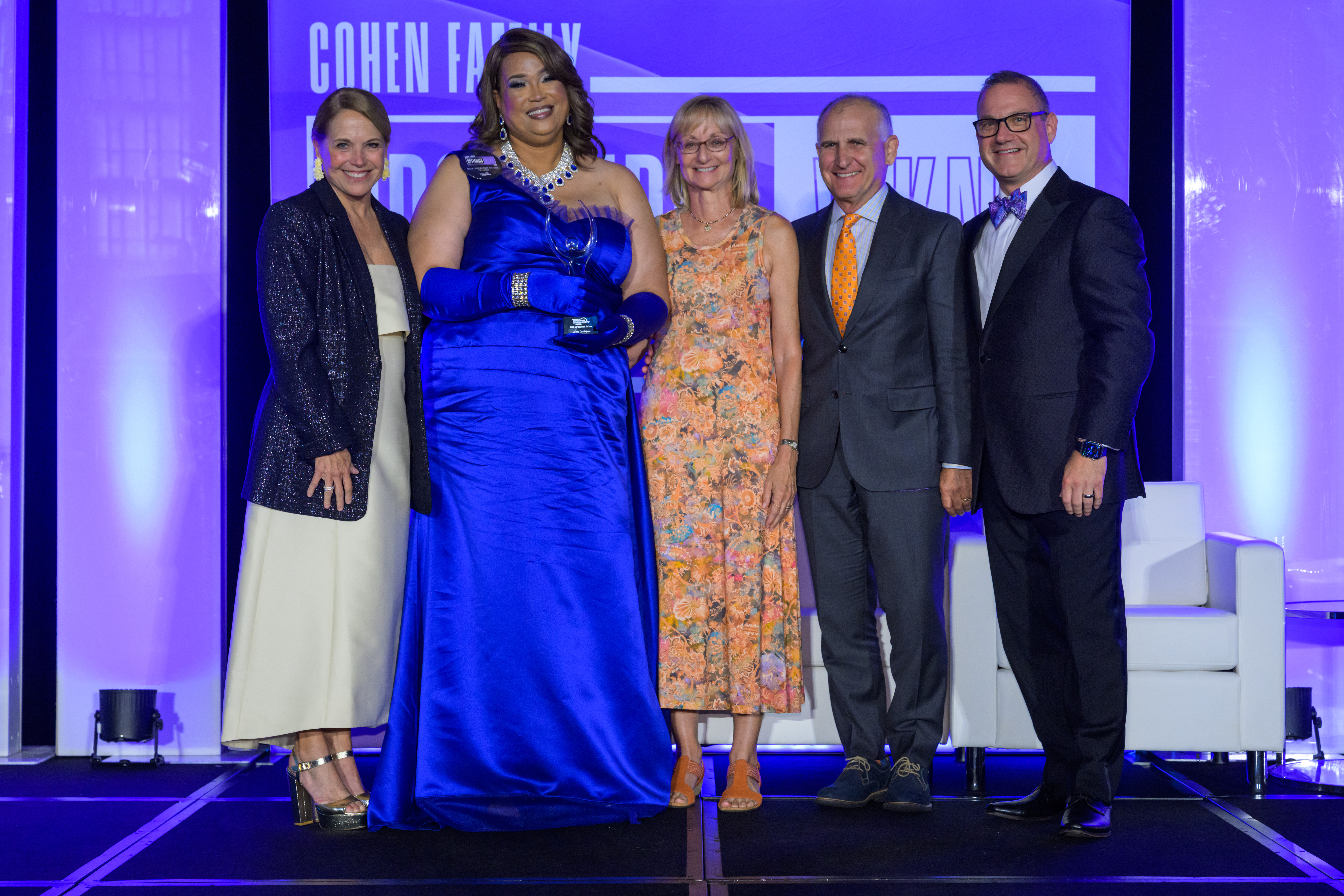 Edith Carter was a Holocaust survivor from Czechoslovakia. In her testimony, she reflected on the relationships she built with other women in the concentration camps. Edith and six of these women escaped a Nazi death march out of Auschwitz together. The last thing you see before you leave the museum downstairs is a quote by Edith, blown in glass by local artist, Darren Goodman, who was moved after hearing Edith share her story. Edith said "everybody, every human being has the obligation to contribute somehow to this world." This was the way Edith lived her life—committed to acts of kindness and love, championing the idea that every person matters.
Affectionately known as "Momma T," LeTecia walks the streets of Cincinnati giving out sandwiches, hygiene products, and blankets to the homeless community. As an Emergency Shelter Case Manager, she has been one of the fiercest advocates for the homeless community for more than 20 years. Having experienced homelessness as a teen and young adult, LeTecia once said "some people see homeless begging for money; I see someone who may need clothes, employment and transportation. Others see homeless people lying on the park benches, I see someone who doesn't have shoes and may need medical attention for the blisters on their feet. Compassion allows me to see the story that lays beyond the cover."
LeTecia was nominated by several people she's personally helped, who used public computers at the library to submit her nomination. "Momma T encourages us and gives us hugs. She finds ways to help us," they said.
The Jim Tojo Award for Leadership: Kayelin Tiggs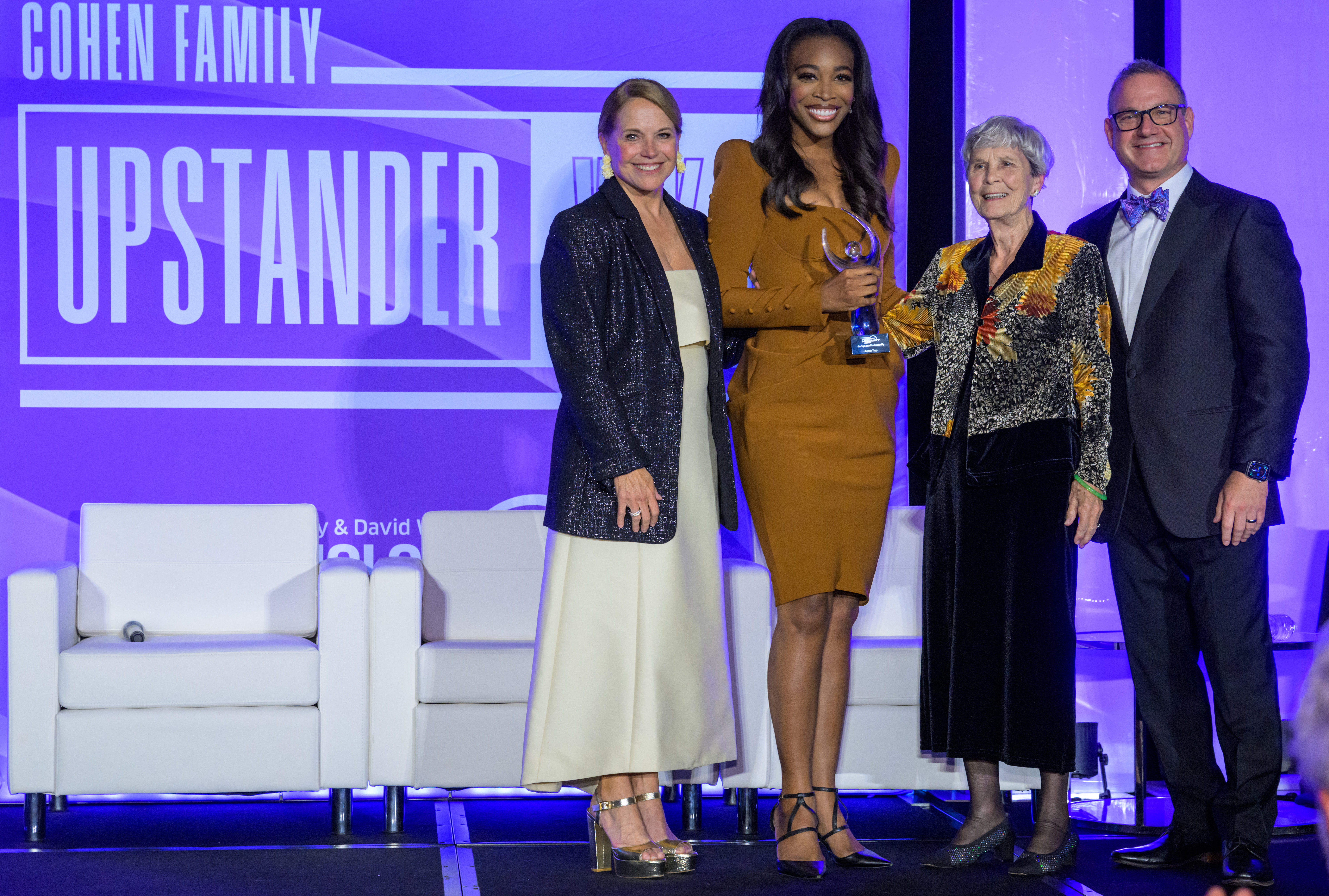 Jim Tojo was 15 years old when he and his family were forcibly removed from their home and placed in an internment camp at Heart Mountain, Wyoming. At 18, like all young men, he registered for the Selective Service, but when he received his draft card, he saw that he was classified as an Enemy Alien. He bravely went to the draft board and protested. He later was reclassified and served as a Military Intelligence Service officer in the U.S. Army. After the war, he joined his family in Cincinnati and attended medical school. Despite the unfair treatment, he forgave his country and ultimately became a widely respected surgeon, rising in leadership and serving 25 years as Fire Department Surgeon and Medical Director for the City of Cincinnati. After he retired, he went on to serve the community in volunteer leadership roles with Our Daily Bread, Hospice and Meals on Wheels.
Kayelin has been working to achieve menstrual equity for incarcerated women in the state of Ohio. Because of her efforts, the Ohio Department of Rehabilitation and Corrections implemented a policy that provides menstrual hygiene products across all state prisons. Kayelin has also empowered the women who are incarcerated to advocate on their own behalf, helping them to organize their efforts.
When asked what motivates her, Kayelin said, "These women are asserting their humanity and fighting for their dignity on a continuous basis. After listening to their stories, I learned that if there's inequality then something needs to be done, and it can be done by me."
The Werner Coppel Award for Perseverance: Michele Berry Godsey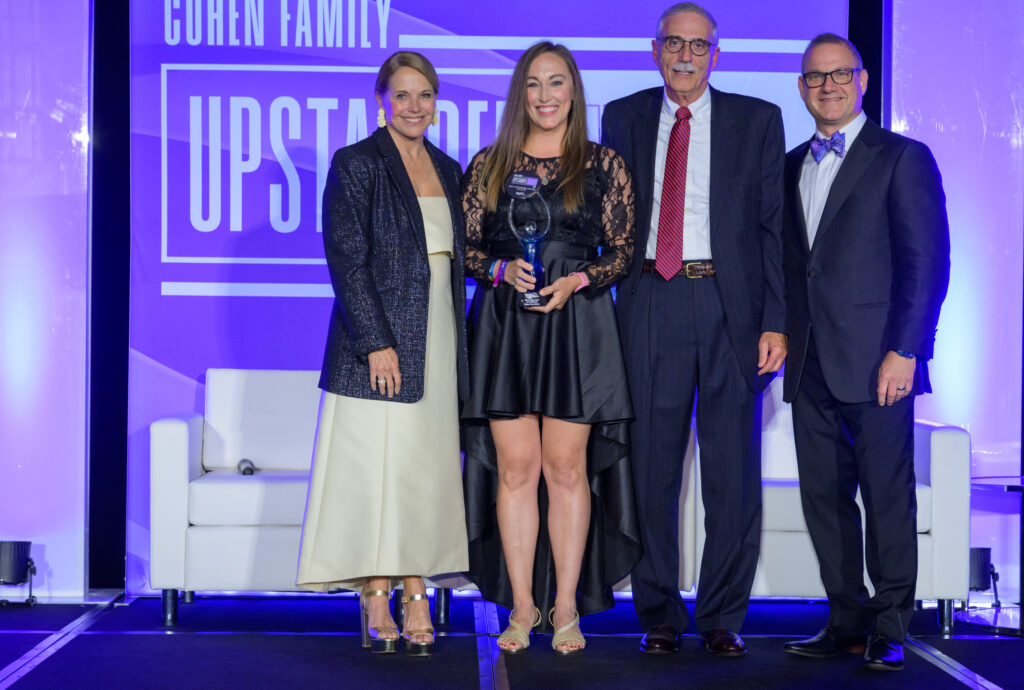 Werner Coppel escaped a Nazi death march out of Auschwitz, where he had been imprisoned for 22 months. After the war, Werner, his wife, Trudy, and their first son, Ron, immigrated to the United States, arriving here in Union Terminal. In 1976, the Cincinnati Enquirer printed a Letter to the Editor claiming that the Diary of Anne Frank was a hoax and the Holocaust never happened. In reaction, Werner spoke out, becoming the first local survivor to share his experiences during the Holocaust, and inspiring others to share their stories. From that point his death in 2016, Werner worked with inexhaustible dedication and perseverance to educate, speaking to hundreds of thousands of students, educators, and community members about his experiences during the Holocaust.
Michele is a lawyer who volunteers her time representing people who have been wrongfully convicted. An avid marathon runner, Michele says the sport informs her approach to fighting a wrongful conviction — relentless hard work, determination, endurance, and grit. "When I cross the finish line of a marathon," she said "I feel like I could move a mountain. And that's the strength it takes to fight a wrongful conviction."
Michele was nominated by one of her clients who shared that she had worked on his case for more than 13 years before his conviction was overturned. "Now I am living my life to the fullest as a father, grandfather, and productive citizen," he wrote. "I'm giving back to the community in every way possible to take advantage of the new life Michele has given me."
The Al Miller Award for Gratitude: Mason Bailey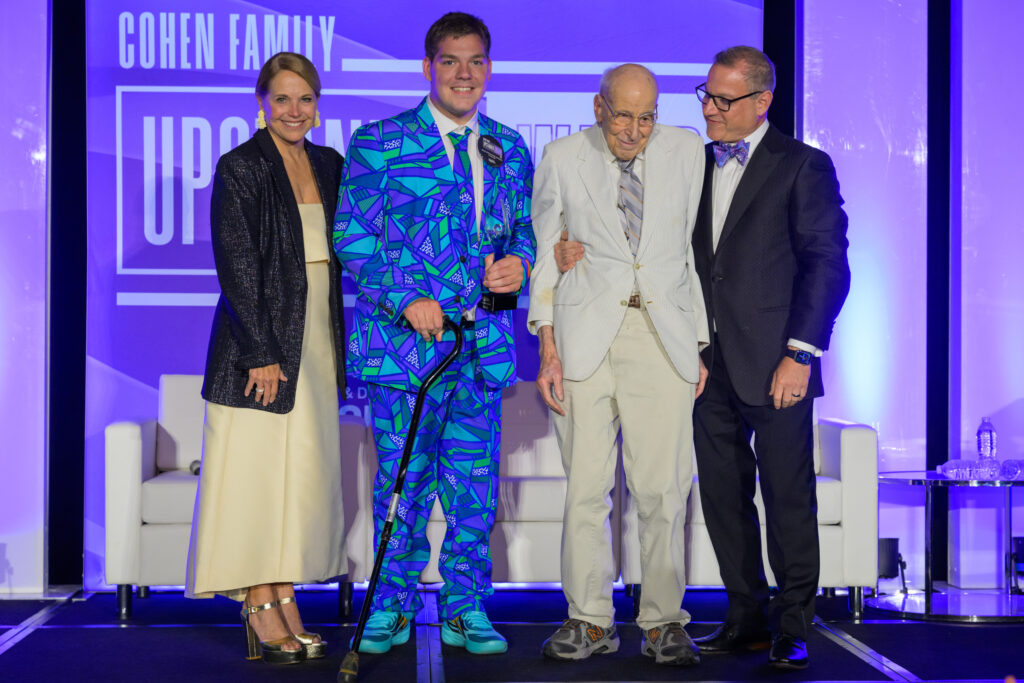 Al was born in Germany, but at only 15 years old, as things got worse for German Jews, he left for Switzerland. When he and his family were able to immigrate to the United States years later, an American immigration officer showed him grace, after Al realized he'd misplaced his immigration papers. With newfound gratitude and confidence, Al joined the U.S. Army and became a Ritchie Boy—one of less than 2,000 German Jewish soldiers trained at Camp Ritchie and later sent to Germany to interrogate suspected Nazi war criminals.
From an early age, Mason dreamed of learning to drive and operate heavy equipment, despite having cerebral palsy. He encountered nay-sayers who couldn't see past his disability, but has continuously proven them wrong — including by earning his heavy equipment operator license. When Mason had a hard time finding someone who would hire him, he decided to start his own seasonal lawncare business. When asked about his top character strength—Mason said it is gratitude.
"I am grateful to work hard to make things happen," he said. "I am grateful for people who have helped and supported me through life, school, and challenges. I use my gratitude to be positive, to inspire others to try, to do better, and know that anything is possible. I don't feel sorry for myself because of my disability. Life is hard and can be challenging but we all have things to be grateful for, and we need to focus on that to make the world a better and brighter place."
The Frank Bergstein Award for Bravery: Cass Steiner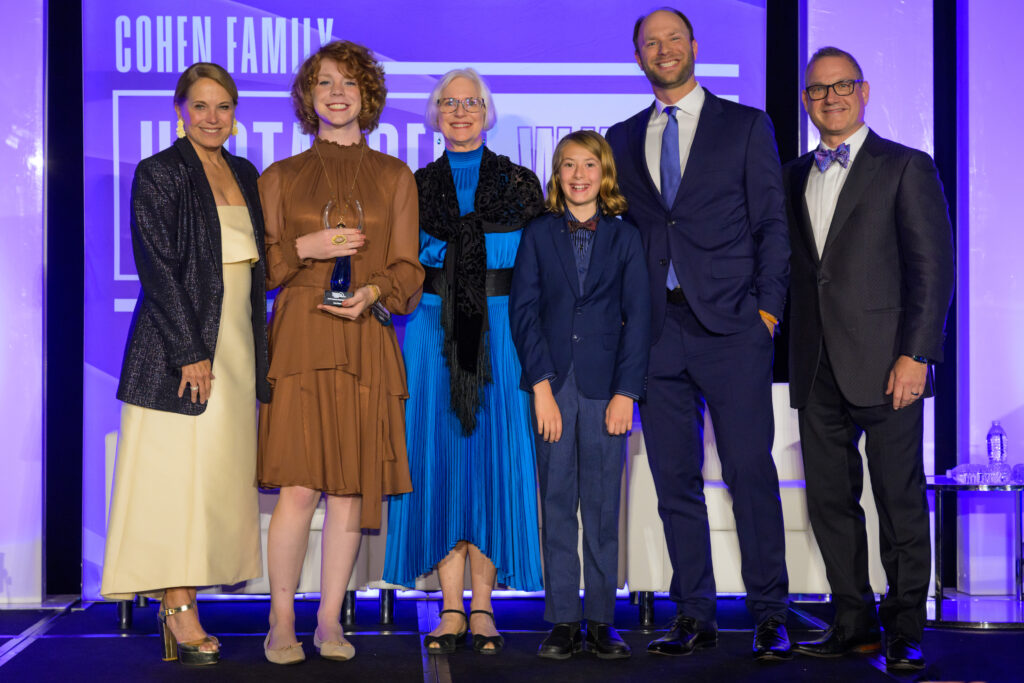 Frank Bergstein was the son of Hungarian Jewish immigrants, and grew up in South Avondale, here in Cincinnati. After attending Harvard, he enlisted in the U.S. Army amidst the Nazi threat in Europe. He was selected for Officer Candidate School, and received his commission as a Second Lieutenant. After he was promoted to First Lieutenant, and was assigned to the 115th Regimental Command Team of the 29th Infantry Division. On June 6, 1944– D-Day—he bravely led his platoon onto the shores of Omaha beach. It was his first combat command, and following the invasion, his platoon liberated towns throughout France, Belgium and Germany, during 91 days of almost continuous combat.
Last year, as a sophomore at Mariemont High School, Cass was ecstatic to hear that she had been voted Homecoming Princess. But when Cass found out from a school counselor that, because of her gender identity, students had actually voted for her as a meanspirited prank, she courageously turned the tables and accepted the nomination.
She ended up marching in their homecoming parade with a large group of students and administrators joining her in support. By bravely responding to bullying with dignity, grace, and power, she used a difficult moment to educate and bring a community together.
The Mirsada Kadiric Award for Hope: Carlton Collins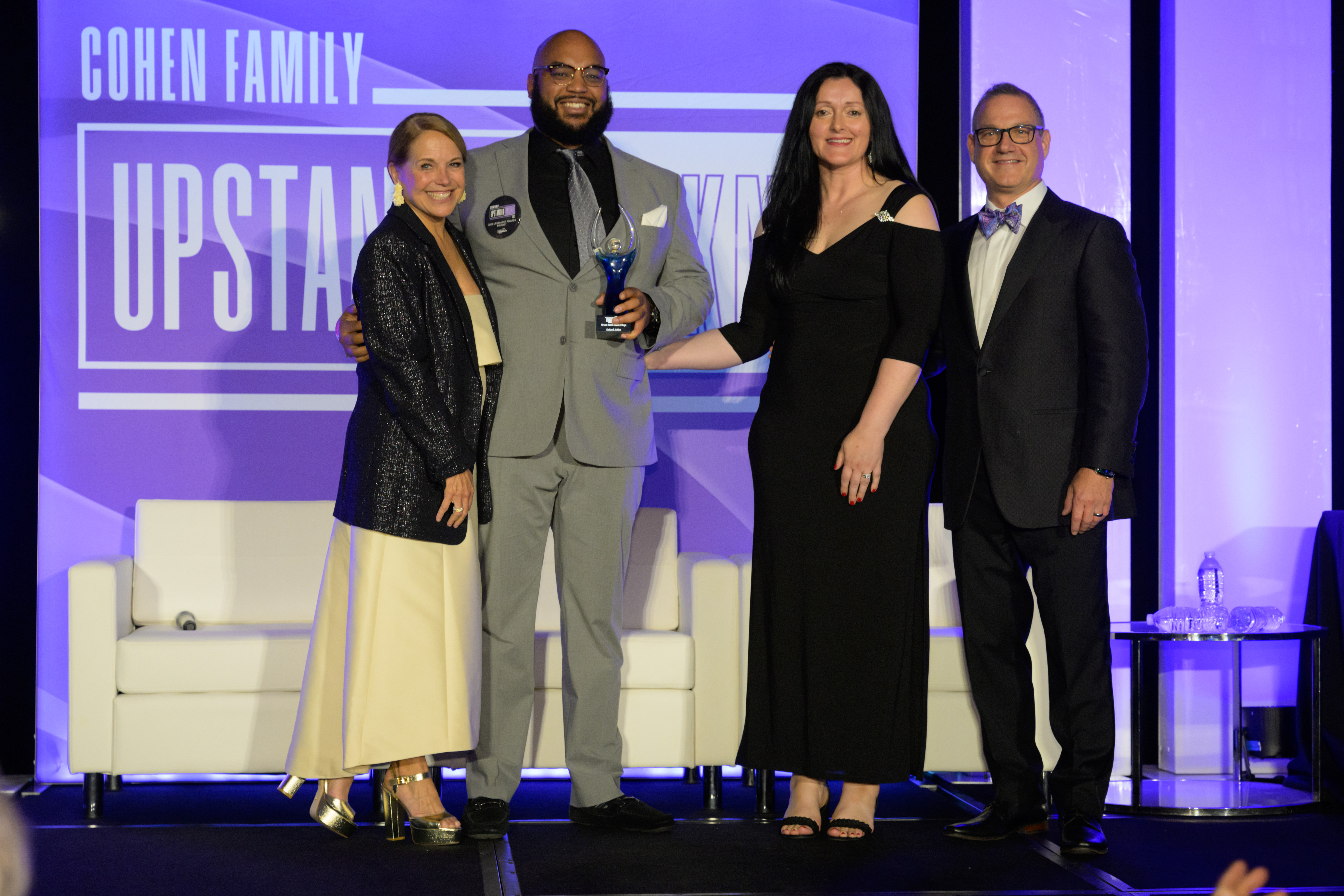 At only 10 years old, Mirsada and her mother survived the Trnopolje concentration camp- which was established as part of an ethnic cleansing campaign by Bosnian Serb forces in the 1990s. After the war, Mirsada and her mother eventually settled near Cincinnati where she volunteered with RefugeeConnect, an organization supporting refugees and victims of genocide. Her immense sense of hope that she could help others find better lives motivated her volunteer leadership of that organization as its board chair. Mirsada bravely confronted the trauma of her past by sharing her experiences publicly, including writing a book called "I Am Refugee: Finding Home Again in America." She continues to shed light on the horrors of the Bosnian war in the hope that what happened to her family never happens again.
Carlton has built a multi-pronged partnership between school districts and preschools to promote literacy throughout Cincinnati. Under Carlton's leadership, the Leading Men Fellowship places 18–24-year-old men of color into preschools to prepare kids for kindergarten. The character strength of hope is defined by being future minded and optimistic.
As a father of three, Carlton is focused on building a stronger community for future generations. "Changing the world begins with changing how malleable your mind is," Carlton said. "Check your biases by the minute– leave opportunity to produce human and organic connection with any and everyone."
The Charles and Else Heiman Award for Kindness: Dominique Olbert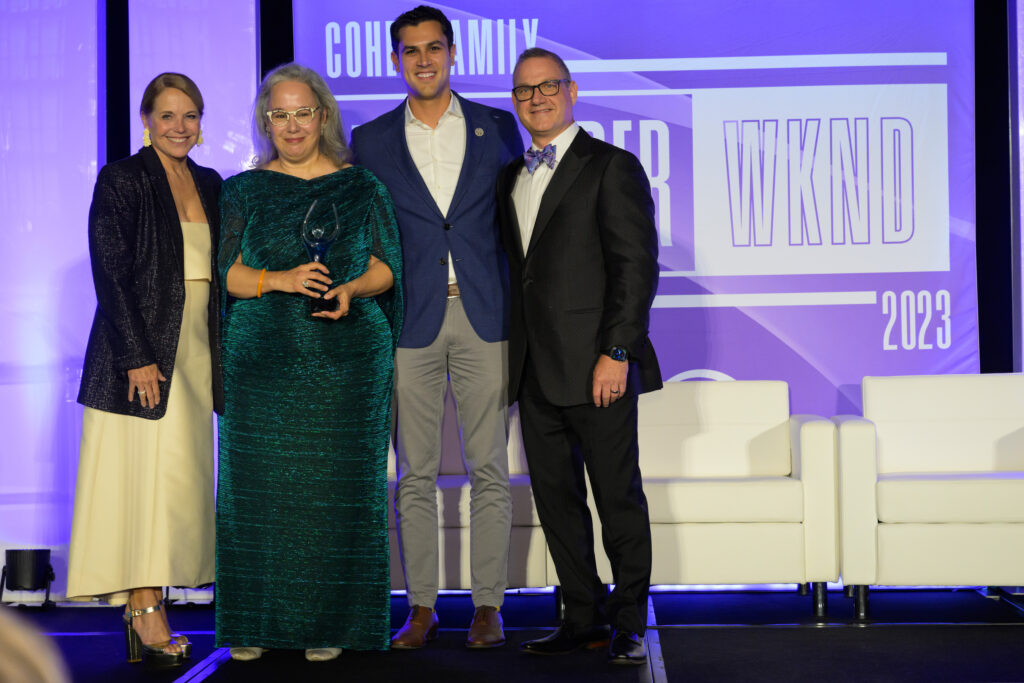 During the 1938 Kristallnacht pogrom, Charles was arrested and imprisoned in Dachau concentration camp. After Charles' release, the Heiman family fled Germany for England and finally the United States, where they started their own company: Standard Textile. They made an effort to hire other Jewish refugees and Holocaust survivors, and the business became part of their family. Else was even nicknamed "Grandma" for her inexhaustible care and kindness. Standard Textile is now one of the largest textile manufacturers in the world and remains committed to the notion that businesses can be a force for good.
Dominique's parents were both Jewish refugees from World War II and lost more than 80 family members during the war. As the president of the Kentucky Community Response Coalition, Dominque has developed a network of support services for refugees and immigrants. Simultaneously, she has raised hundreds of thousands of dollars in donations and grants. Her nominator said: "Since 2019 Dominique has been the catalyst for social services to immigrants and refugees. She led a partnership with Kentucky Refugee Ministries to serve Afghan arrivals by providing food complying with their Muslim religious beliefs, referral for medical and legal services, and providing household goods and clothing."
Dominque sees the losses her family suffered as the motivation behind her work. "I have a wall in a hallway of my house, which has just black and white photos of many relatives who were killed during World War II," she says. "I pass by this wall every day. The work I do with immigrants is very much my answer to this family history."
The Michael A. Meyer Award for Spirituality: Imran Malik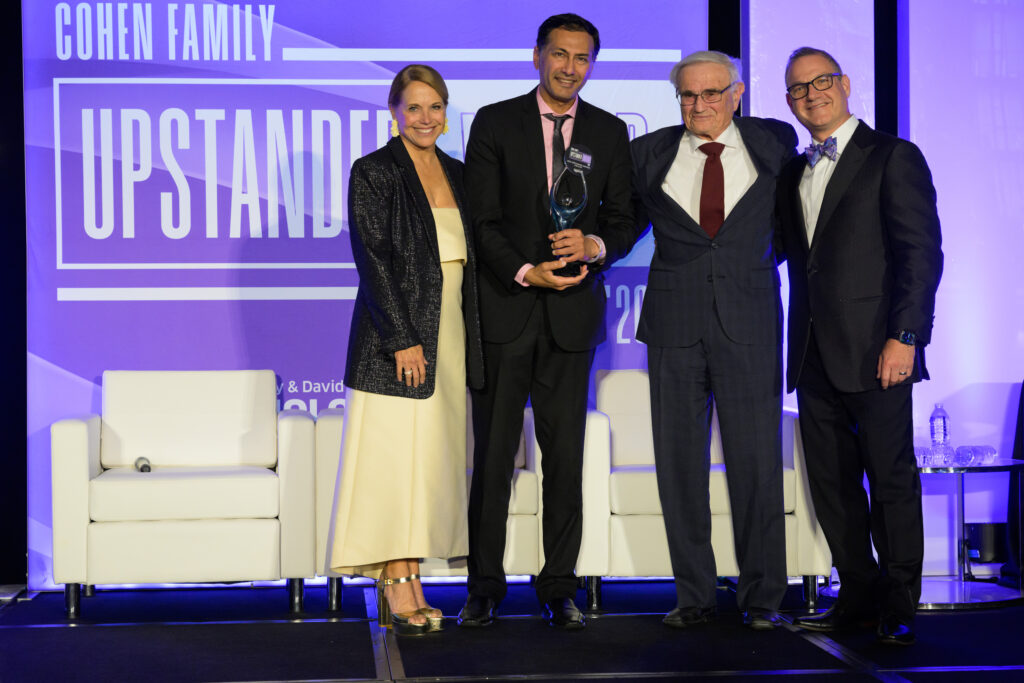 Dr. Michael A. Meyer was born in Berlin, Germany in 1937. Living in Nazi Germany, his father's law license was revoked, and he was called to forced labor as the family made arrangements to escape. In the spring of 1941, the family fled to Barcelona where they waited several weeks for ship passage to the United States. Michael grew up in Los Angeles where he received his B.A. from UCLA. His doctorate is from Hebrew Union College in Cincinnati. From 1964 to 1967, he taught at the Los Angeles campus of HUC. Since then, he has been on the faculty of HUC's Cincinnati campus, where he is currently the Adolph S. Ochs Professor of Jewish History Emeritus. He is a globally renowned teacher, speaker, and author; having served in many Jewish academic leadership roles across countries and continents. He is the recipient of numerous prestigious awards and honors, recognizing his lifelong dedication to teaching and publishing about Jewish religious history and culture. As Dr. Meyer has dedicated his life to scholarship around Jewish identity and religious history, it is fitting that the award for the strength of Spirituality– which drives an individual's search for and connection with their purpose—is named in his honor.
Born in Pakistan, Imran watched his mother shelter their neighbors during the Gulf War. An interfaith and outreach coordinator at the Noor Islamic Cultural Center in Hilliard Ohio, Imran believes service and care for humanity is at the core of all belief systems, and that bringing people together is the way forward an increasingly polarized world. After the Tree of Life Synagogue shooting in Pittsburgh, Imran led a delegation of Muslim leaders in his community to stand in solidarity with the Jewish community. "I have found Imran to be a ray of light in a pretty dark world. So many of us look to him as our faith compass," said Rabbi Sharon Mars of Temple Israel in Columbus.
Imran has pulled together practitioners of all faiths for common community goals and better understanding. When asked what motivates him—Imran shared that service to others, is part of his spirituality. Imran said, "I grew up witnessing my parents living and breathing the essence of a saying of Prophet Muhammed — the best human being is the one who is beneficial to others," Malik said. "It's this fundamental spiritual prescription that has become my life's conviction."
The Roma and Sam Kaltman Award for Love of Learning: Krystal Smalley, Patti Davidson and Rachel Keirns-Moore of the Upper Sandusky Library Team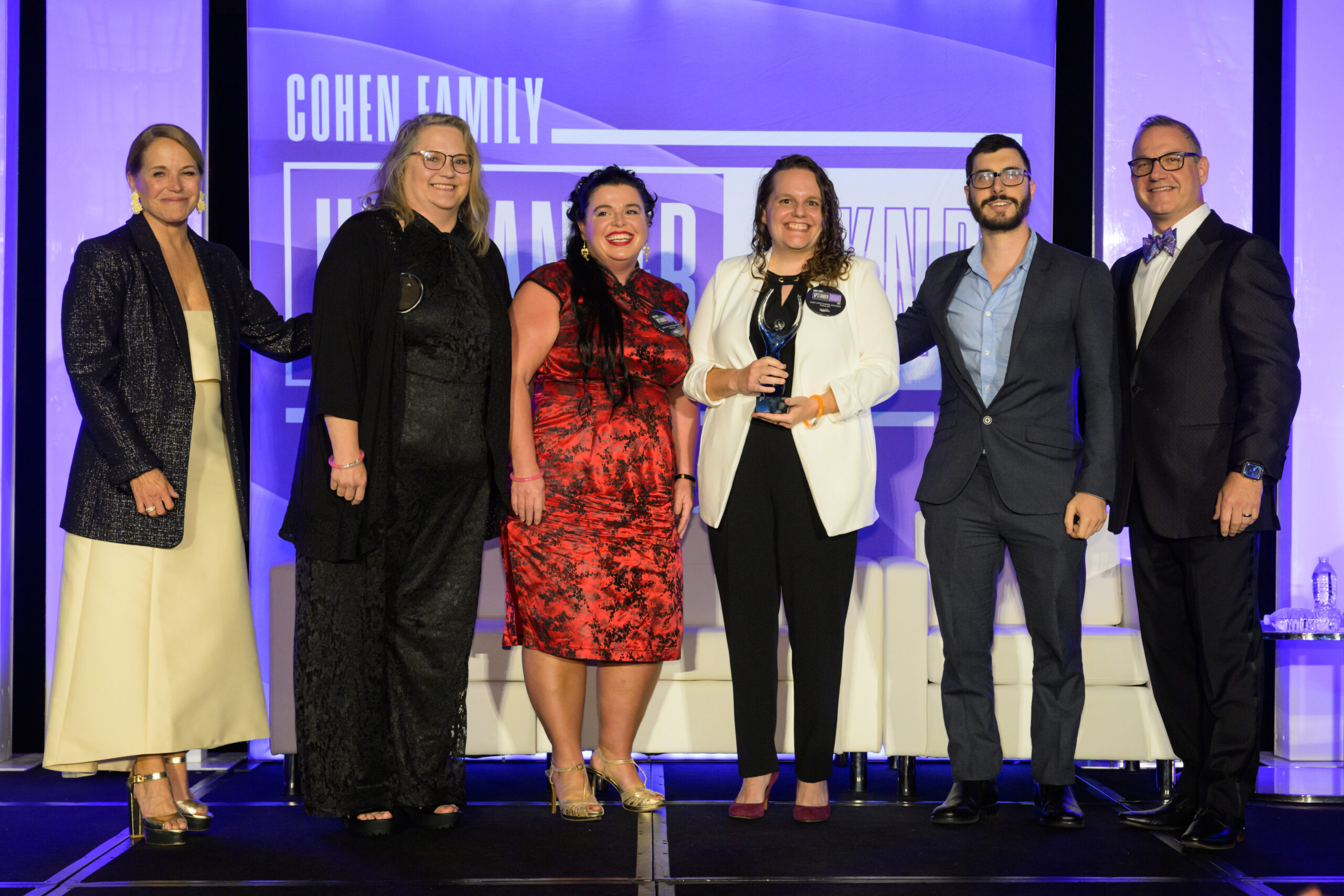 Roma and Sam Kaltman met in the Lodz Ghetto in Poland over their love of reading–trading books. Both were deported to Auschwitz and ended up in other camps; Roma in Stutthof, Sam in Dachau. They were able to reunite after the war and married and immigrated to Cincinnati. Deeply committed to Holocaust Education, Sam served as President of the Jewish Survivors from Nazism, the predecessor of the Holocaust & Humanity Center, where Roma served on the board until her death in 2012. The Center's Kaltman Institute on Teaching the Holocaust was named in their honor by their daughter, Sandy, and her husband, John Isidor. To date, the Roma & Sam Kaltman Institute on Teaching the Holocaust has equipped hundreds of educators with practical, classroom-based strategies that help thousands of students develop empathy and make personal connections to history.
When a homeschooling network in their hometown issued Nazi-approved curriculum, Krystal, Patti and Rachel sprung into action—knowing the library could be an essential source of information to the community. They searched for Holocaust educational resources and found the Nancy & David Wolf Holocaust & Humanity Center—which helped connect them with a Holocaust survivor to speak about his experience during the war.
The event started a movement to educate people about the Holocaust, and every day since, the library has received phone calls requesting recordings of the testimony. All three women are firm believers in the role libraries play as educational centers and cornerstones of our democracy. "As a library and staff, we will continue to educate and speak up. We will always stand up against injustices," they said.
Read the full press release about the 2023 Upstander Awards here.
The Cohen Family Cincinnati Upstander Weekend is presented by Duke Energy, Fifth Third Private Bank, the Mayerson Family Foundation, WCPO, and Procter & Gamble.
# # #
ABOUT THE NANCY & DAVID WOLF HOLOCAUST & HUMANITY CENTER
The Nancy & David Wolf Holocaust & Humanity Center exists to ensure the lessons of the Holocaust inspire action today. Located at Cincinnati's historic Union Terminal, HHC impacts more than 2.5 million people every year through digital and in-person events, museum tours, educational experiences, social media, and virtual content. From Australia to India, individuals from more than 25 countries and 30 states engage with our mission. For more information, visit www.holocaustandhumanity.org.